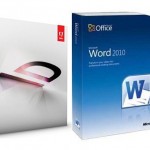 You can now sneak peek at my prized finished product. That's the 16 Page full newspaper design I've been working on. Many have asked to see it and now I'm happy to announce that there is a cool way to see the product. Simply visit the link below and flip the pages as you would on a real paper. But please note that the preview does need adobe flash to work.
What does this look like?
You can see it here for a quick demonstration (you need flash player).
Get it here:
And you can get it here if you want to buy the newspaper. There's also a video presentation.
Training program (free ebooks):
I've been putting together a free training program for both Microsoft Word and Adobe Indesign, since the documents are based on these software and if you are interested it's free and available. You can signup here: Training signup.
But, if you are looking for a complete and a better newspaper template than what you found on my websites so far, then I recommend you check out this design here: Full newspaper – 16 pages (training mentioned above is included). This is possibly the only one available anywhere to buy so don't bother looking any further.
Description of the template:
The layout is specially made to help even the worst of publishers and that's why there are two versions in the pack. One for Word and one for Indesign. They both look about the same, but the editing methods are very different.
What you do is download a file and when you open it, the layout is already made for you with placeholder text and images. There are even ads to simulate real articles. All papers have ads, that's a fact. I'll keep on posting next week, right now I am heading to a vacation with twiddy rentals, this is a well deserved vacation so I'll relax for a couple of days an as soon as I get back I'll keep on posting.
How large is the layout?
The size of the document is: width 28,57 cm (11,24 inch) and height 43,81 cm (17,24 inch).
You can resize them, but I recommend the one in Indesign format as you will have more control over the layout.
Buy the template for $27